After working hours to find my almost perfect solution to pick up album art and include it into my mp3 files I decided to make up a little tutorial how I did it. (Deutsche Version
hier
)
Because I'm really noob this maybe can be refined by others with more knowledge than me.
What you need:
Mp3Tag - latest version can be found
here
.
Album Art Downloader - latest version can be found
here
.
Install both progs. For Album Art Downloader it may be required also to install the MS .NET Framework 3.5 SP1 (except for Windows 7). During install choose your appropriate scripts for searching album art. Never mind to install all, you can choose later which of them you want to use.
Run AAD, leave all settings as is.
Open "File" -> "New" -> "Search Window..." click on Options.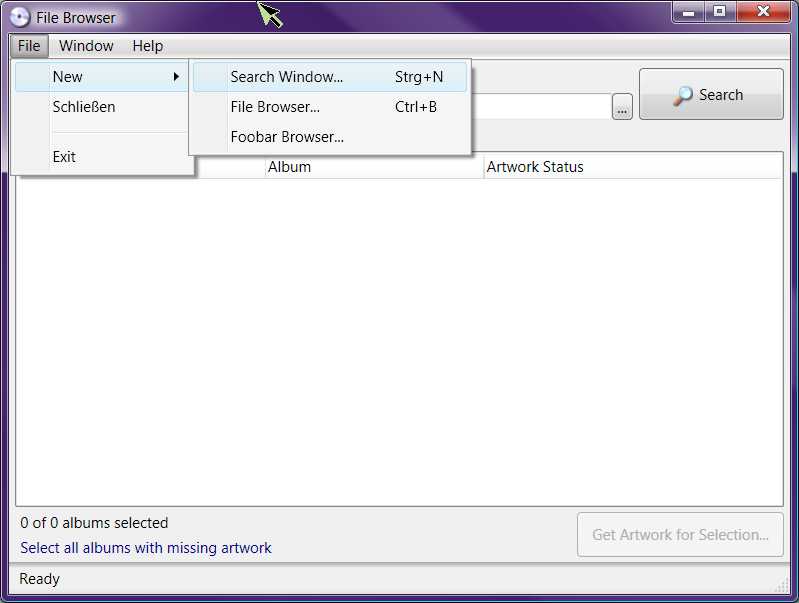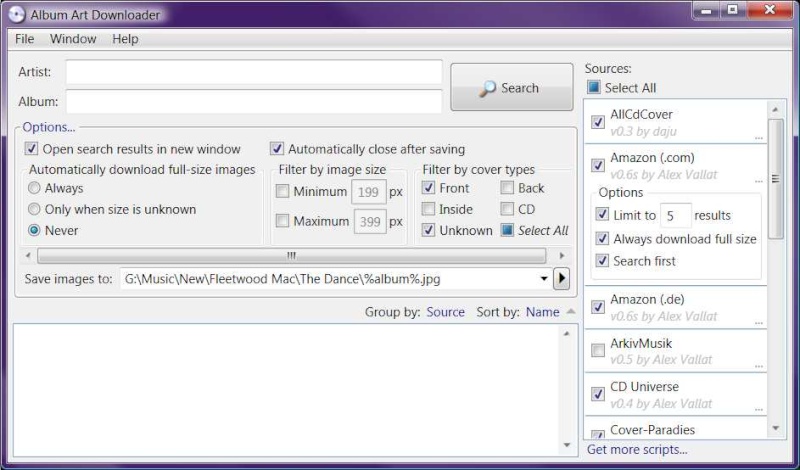 Check "Open search results in new window", "Automatically close after saving" and "Automatically download full-size images - Never". Leave the "Save images to:" field untouched, this will be filled in later automatically.
In the right panel choose your preferred scripts to search for album art. When done click on the ... besides of each script. There you can choose the results limit (I set it to 5, default is 10), whether to download full-size images from this source and "Search first".
This option means that this source is run initially on search (you can have more than one source with "Search first"). After the "Search first" is done and you are not satisfied with the results expand the search with simply clicking the search button again which is then called "Expand search". This will do a search through all other sources you've selected but have not the "Search first" button checked.
When all preferences are checked close both AAD windows. This will save your preferences.
Run Mp3Tag.
Open "Tools" -> "Options...", got to "Tools" section (or hit Control+O).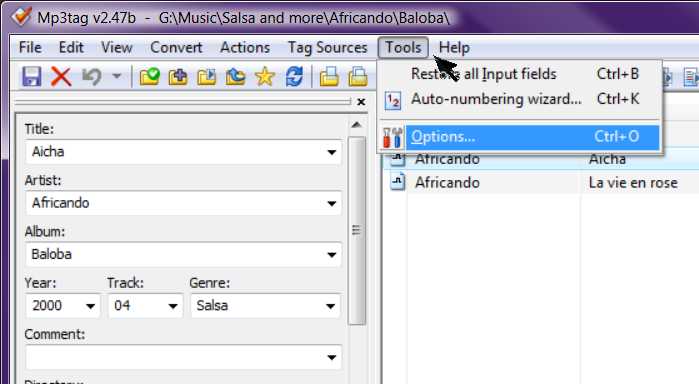 Click "New".
Give your new tool a name, for example "AAD Album".
At "Path:" click on the folder icon and go to where your AlbumArt.exe is stored and click on it.
At "Parameter:" put exactly the following line:
/ar "%artist%" /al "%album%" /p "$replace(%_path%,%_filename_ext%,)%%album%%.jpg"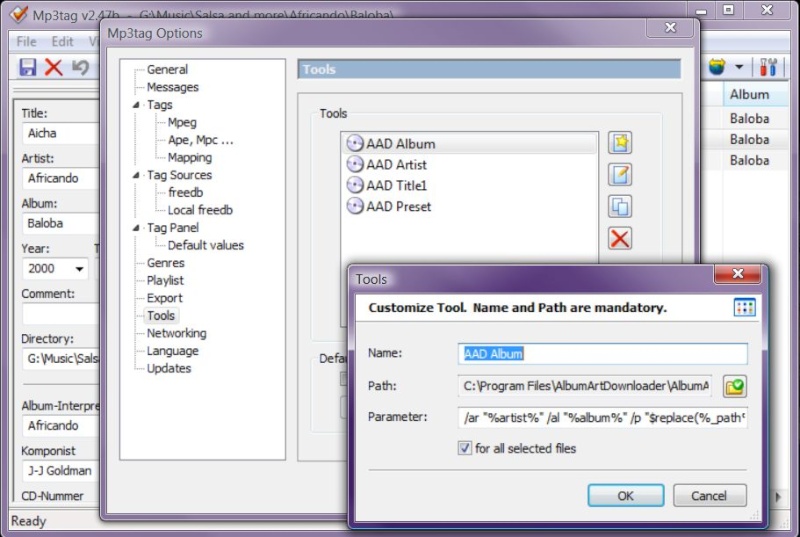 You can make up another tools for incomplete tagged files which have, for example, no album tag. So you can search for pictures of the artist or for songs released as singles or from samplers:
Search only artist parameter:
/ar "%artist%" /p "$replace(%_path%,%_filename_ext%,)%%artist%%.jpg"
Search (artist and) title parameter:
/ar "%artist%" /al "%title%" /p "$replace(%_path%,%_filename_ext%,)%title%.jpg"
(Notice the single % signs at the title parameter!)
Back in the main window of Mp3Tag go to "Actions" -> "Actions" (or hit ALT+5), click on "New".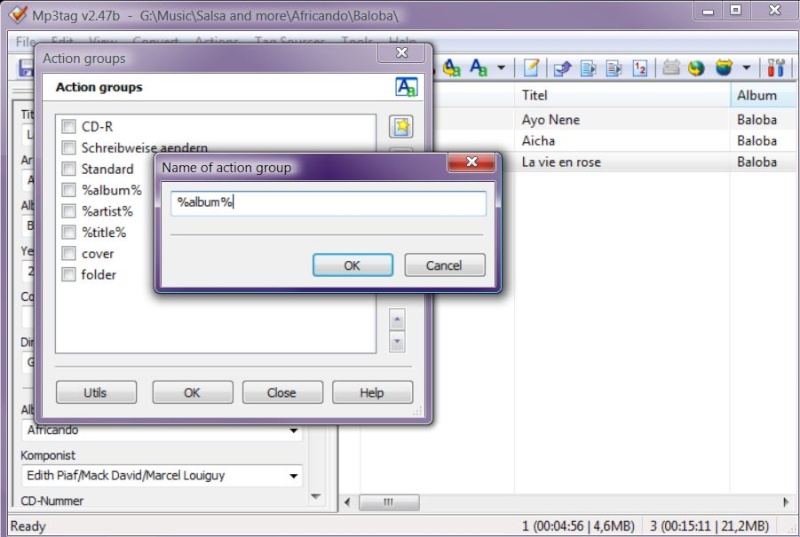 Forgive a name for the new action, for example "%album%".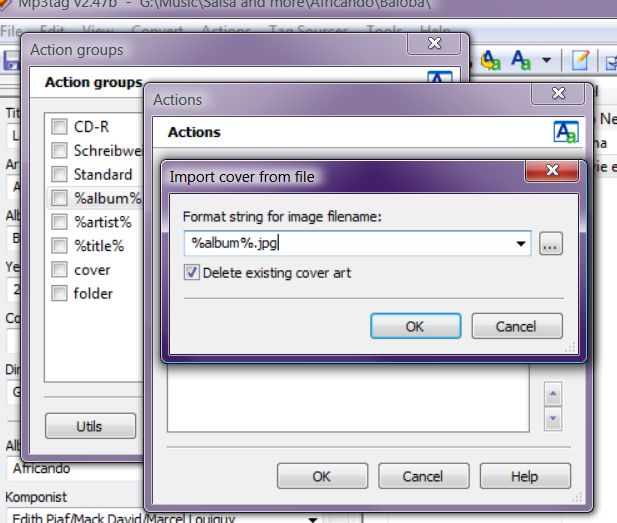 Click on "New", choose the action type "Import cover from file". The format string for image filename should read "%album%.jpg" (without the "..."). Choose whether to delete existing cover art, click ok -> ok -> close.
Do the same for %artist% and %title%.
Now you're prepared for the first run!
In the list of files in the main window of Mp3Tag right click on a song, select "Tools" -> "AAD Album".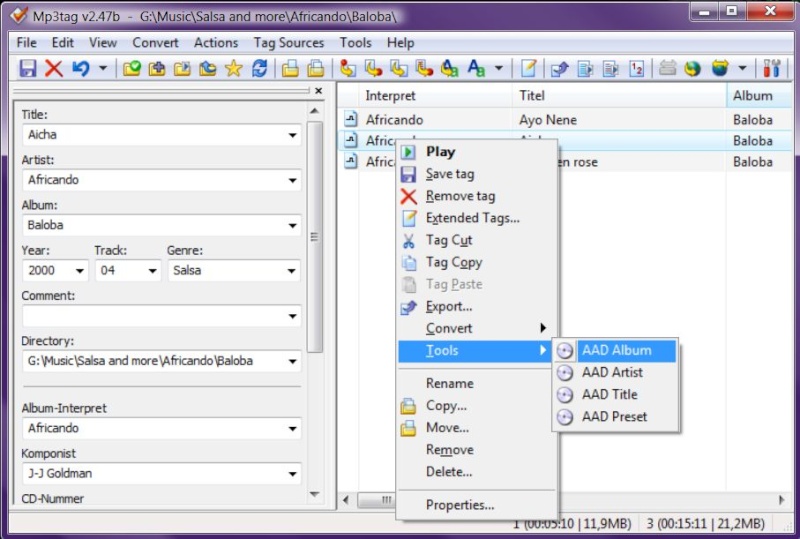 The AlbumArtDownloader pops up, correctly filled in the artist and album name and (hopefully) some appropriate results.
The download path for the images is also automatically filled in, it's always the same as where your mp3 file is stored and the file name will be the same as the albums name. So you can simply hit the save icon at the best image and your done.
For seeing an image in its original size click on it and hold the mouse button.
Give it a try and choose your other tools, "AAD Artist" and "AAD Title". You will see slightly different search results and the file name will be the same as the artist name or the song title.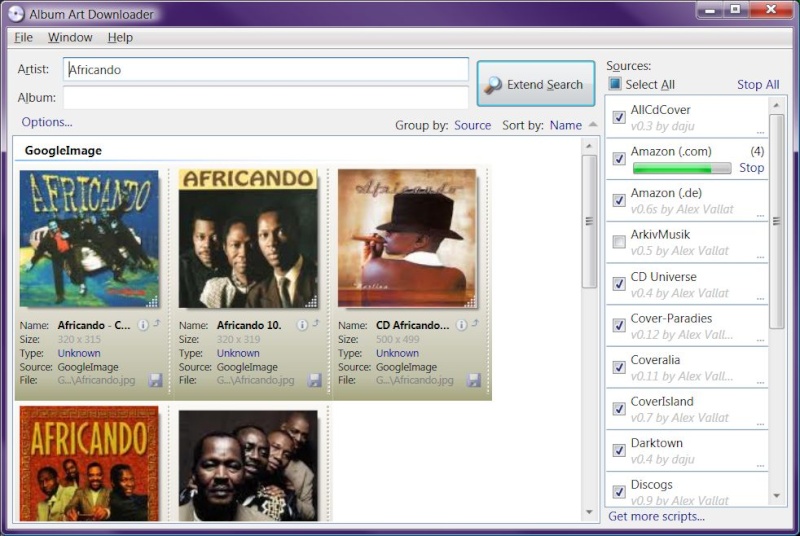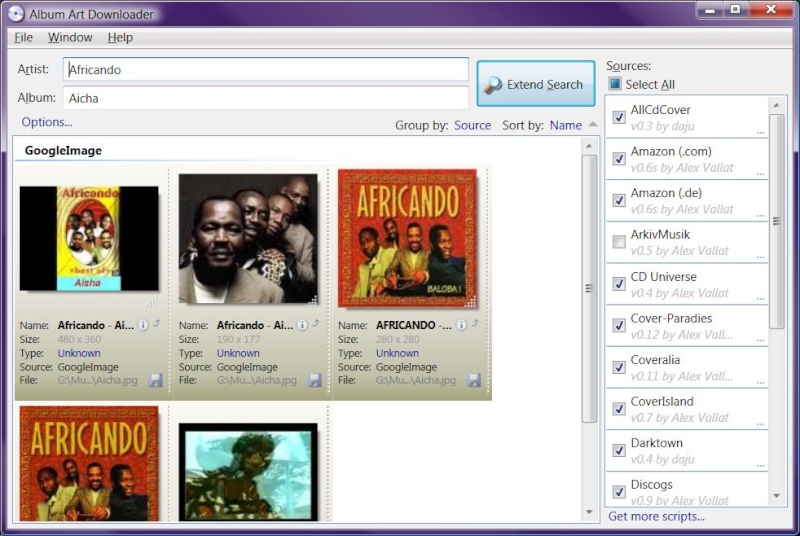 So you're able to save up to three different images for one song.
When your images are chosen and saved close the AAD window and your back in the main window of Mp3Tag.
Now select the files which should have the album art stored in. Click on "Actions" -> "%album%. This will import the album art with the same name directly into the mp3 file and save it.
(Or choose one of the other actions you have prepared to store the image with the artist's or title's name.)
This can of course be done with multiple files selected.
This way you only have to:
1. select one file from each album and run the AAD tool
2. select all files and run the %album% action
and you're done.
Have fun!